Housing Affordability Report:
Build support for affordable, low-income, and supportive housing development.
Corporation for Supportive Housing (CSH) launches new affordable housing assessment - available now in mySidewalk's data visualization platform.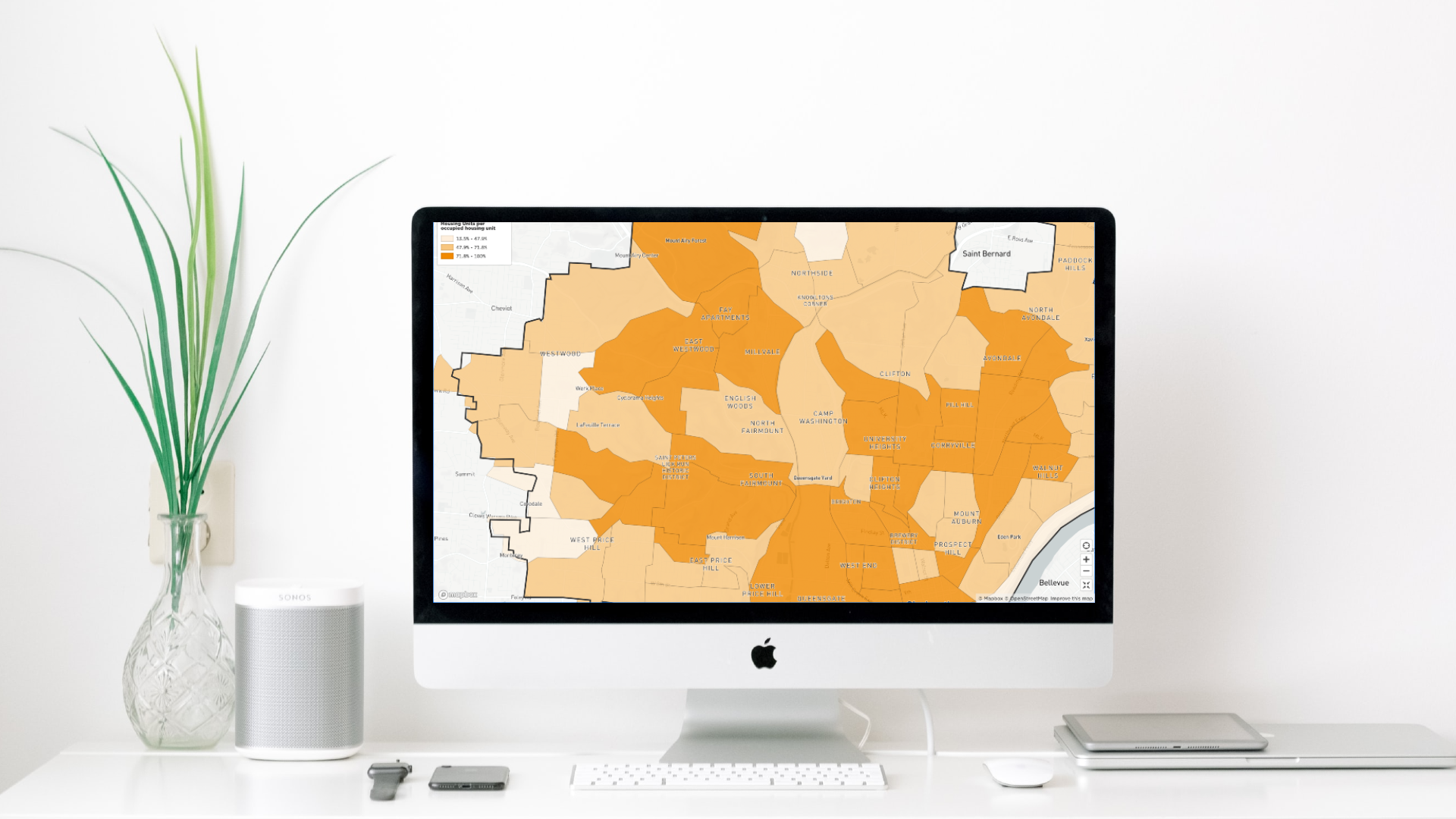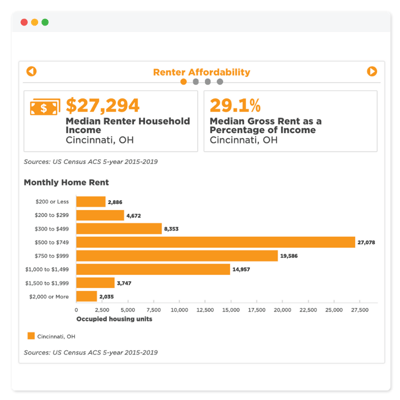 Assess the affordability of your housing market.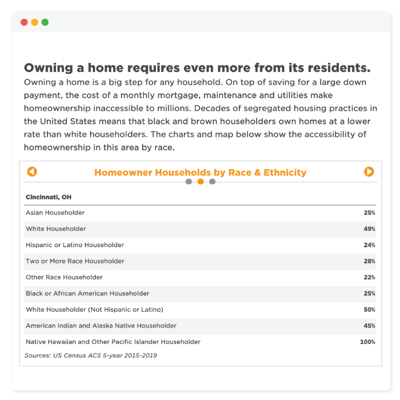 Tell compelling stories for affordable, supportive housing.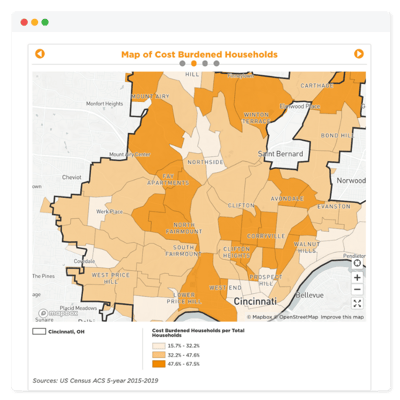 Visualize, download, and share local data.

Address the affordable housing crisis.
For community decision-makers, policymakers, advocates, developers, urban planners, & more.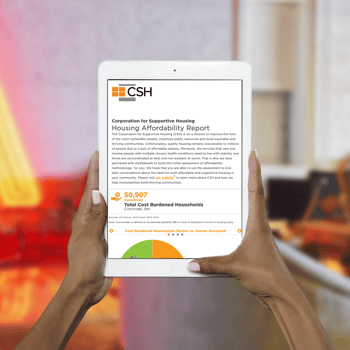 Request a demo of mySidewalk and receive one personalized housing assessment.
Housing experts at the Corporation for Supportive Housing (CSH) have teamed up with mySidewalk to deliver on-demand, localized affordable housing assessments inside mySidewalk's data visualization platform.
The report provides local decision-makers with the data and story needed to help tackle the affordable housing crisis affecting black, Indigenous and people of color, individuals with disabilities, and people involved in the justice and child welfare systems at higher rates.
Granular Geography Details
Access housing data for your city, town, county, US congressional district, state senate district, state house district, unified school district, city council district, ZIP code, neighborhood, and more.
Comprehensive Community Data
Data information includes indicators such as Renter & Owner Cost Burdened Households, Evictions over time, and Mortgage Originations - including breakdowns by race/ethnicity.
Guide Local Investment
Discover what it means to invest in supportive housing in your community alongside the Corporation for Supportive Housing.
Compare Across Geographic Places
Compare data for up to 6 geographies at a time for peer, regional, state, and national comparisons.
Built-In Accessibility
Assessments are web-based, mobile optimized, ADA compliant, and WCAG 2.0 accessible.
Simple, Easy Data Sharing
Access your assessment online, by printing to PDF, embedding on your website, or downloading the underlying data as a .csv, .png, or .geojson file.
Request a demo.
Affordable Housing Assessments are available today inside the mySidewalk platform, alongside other data report templates and indicators on community health, housing, demographics, and more.
If you would like a report for your community, reach out to schedule a personalized demo and walkthrough and a representative will be in touch.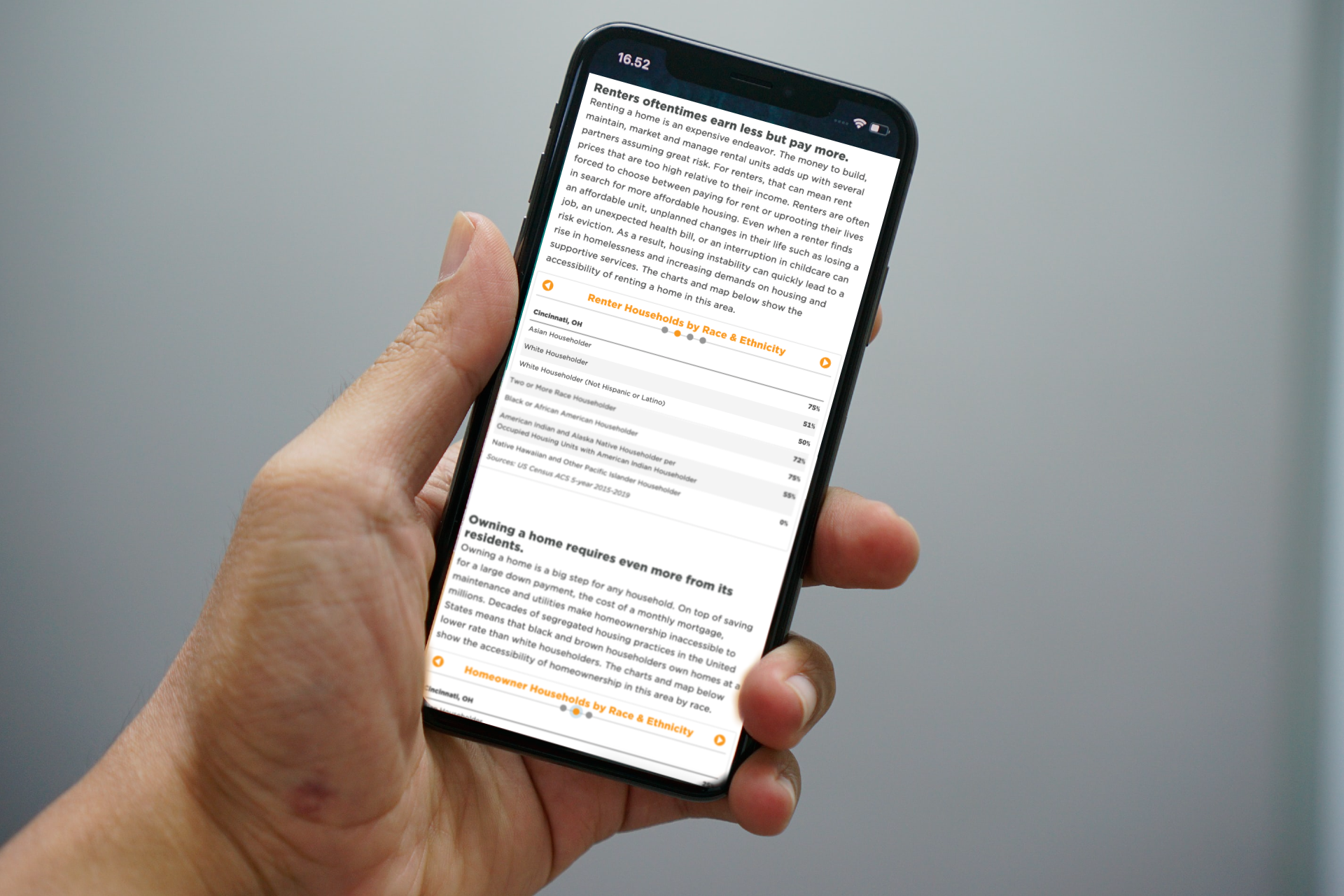 "We are proud to launch our new Affordable Housing Report within the mySidewalk platform. mySidewalk has made available an enormous quantity of data for analysis. They are a mission-oriented company that works to understand their clients. They have become a reciprocal partner of CHS and helped us meet our goals to create data that accurately defines the problem and achieves more equitable outcomes."
Kim Keaton, Director of Data and Analytics at CSH
Corporation for Supportive Housing

"Our mission at mySidewalk is to provide decision-makers access to the best data available about their communities, and help tell a story that informs action. This report with CHS is built with best practice to bring affordable, supportive housing to communities across the U.S."
Brandon Gumm, Director of Solutions Development
mySidewalk